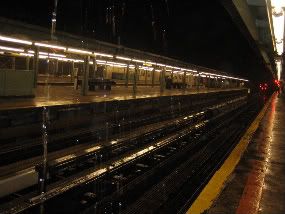 So glad is Friday! I had a busy and moody week, didn't feel like blogging. Kept starting a post but my mind would drift some place else. I'm in a funk but the fact that is Friday is making feel a bit better.
I'm sipping on a café to warm up mis huesos and eating a bagel. ¡Que rico está! It's another rainy day in NY and I'm enjoying it! So grab that umbrella and prepare for a bad hair day! You know, I remember when I was young how I used to hate when it rained because that meant my hair would turn into a cotton ball. I have curly hair so I used to blow dry my hair for almost 2 hours twice a week because I wanted to have straight hair. I felt I looked pretty if my hair was straight. Now, no me importa si llueve o no/I don't care if it rains or not. Sure, it bothers me that my hair turns into cotton ball or that I'm going to have to waste more gel, shampoo and conditioner if I just washed it the day before but these days I just put it on a pony tail or a messy bun and off I go. Como decimos en Puerto Rico, al que no le guste que no se lo coma!
Age changes de la manera que uno piensa/your way of thinking. I no longer blow dry my hair (too much work and can't afford to have someone else do it). I do relax it (at home) to loosen up my curls and I use gel and infussion 23 leave in treatment to keep it in place and looking nice.
All this hair talk made me think about a Twit from Ms Latina yesterday. She asked which one
do we like better Hispanic or Latina. I like Latina/Latinos. Suena más exótico! I haven't heard President Obama saying it but now she made me curious. She said she liked how he pronounced it, lol. Google here I come!
Pin It Now!