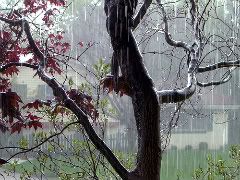 Good morning, TGIF! This week seemed to last forever. I'm a walking zombie, have been going to sleep very late so I need to catch some zzzz's pronto. Last night the kids kept bumping me (saying Mami levantate!) to wake me up because we were watching Fringe and I kept falling asleep. I couldn't keep my eyes open, lol.
It's a rainy day in NY and I'm enjoying the rain falling on my AC. It reminds me of Puerto Rico when it would rain for hours and the water falling on the tin roof would put us to sleep. Ah, the good old days! There is no one in the streets right now, so peaceful. Won't last for long so I better enjoy it! Have a great day!!♥
1. The first rule of working in an office and getting along is be neutral, try to get along with everyone.

2. I don't like clams.
3. When I think of carnivals I think of tons of fun and having a great time.
4. All the flowers are my favorite spring flower.
5. Things on my desk include lotion, speakers, pens, notebooks, books, sanitizer, calculator, headphones, pen holder, rings, nail polish and some other things.
6. The rain makes me wanna go back to sleep.
7. And as for the weekend, tonight I'm looking forward to catching up with my show, tomorrow my plans include clean up, do some blogging, pay some bills, watch a movie and Sunday, I want to relax, relax!
Pin It Now!