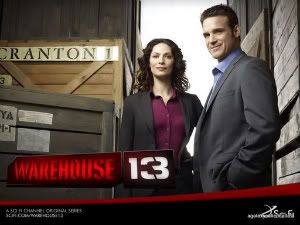 I am hooked on
Warehouse 13
! I forgot to record the first episode but I had received an email with the episode from
Amazon.com
. Started watching it but never finished it because kept putting it off. Finally after I had recorded the next three episodes decided to watch them all and I'm totally hooked! So is my daughter. Thank God the episodes are available online. I had to watch the last 5 to 10 minutes of each episode online because the wrestling show runs long and it cut off the show before it ended! I record the repeats after it airs because I have other shows I record, lol.
There is great chemistry between the actors and the stories are good. I love Myka's (Joanne Kelly) and Pete's (Eddie Mcclintock) characters with all of their quirks, lol. Not to mention Artie (Saul Rubinek), I don't think anyone else can play that character better than him. I hope the show gets renewed and we are not left hanging after we take the time to watch the show. If you would like to check it out you can still catch up online,
click where it says full episodes! The show airs on Tuesday 9:00 PM et/pt on Syfy Channel. Can't wait for the next episode..♥
Pin It Now!