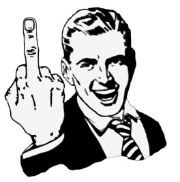 It's a gloomy rainy Monday. I'm cold and sweating at the same time. Don't know if it has to do with me getting old or because I'm pissed. I went to use the bathroom and to wash my face and there is barely any water and it's cold water. I don't mind this once in while but mierda, we have been having water problems since last year. At this point you think they would let you know ahead of time when they are going to shut off the water so if you work or have to go out you can plan ahead. No warning at all, fuck!
I was checking my email and I always check my spam folder because sometimes regular emails end up in that folder. Well, today I noticed an email I keep getting over and over. I'm thinking does these people think we are that stupid? The Internet has been around for a long time now. Meaning where almost everyone has it. You would've had to be living in a forest somewhere with no computer for the past 10 years to fall for this stupid shit!! This is the email below...
I am a Diplomat named Prof Alex Smith, mandated to deliver your inheritance to you in your country of residence.
The funds total US$7.5 Million and you were made the beneficiary of these funds by a benefactor whose details will be revealed to you after handing over the funds to you in accordance with the Agreement I signed with the benefactor when he enlisted my assistance in delivering the funds to you.I am presently at JFK Airport in the United States of America and before I can deliver the funds to you, you have to reconfirm the following information so as to ensure that I am dealing with the right person
1.Full Name
2.Residential Address
3.Age
4.Occupation
5.Direct Telephone Numbers
After verification of the information with what I have on file,I shall contact you so that we can make arrangements on the exact time I will be bringing your package to your residential address.Send the requested information so that we can proceed.
Regards, Prof Alex Smith
These people have nothing better to do but try to scam others out of their money. Unfortunately they try to get you other ways and some people fall into the trap because it looks legit. I make a point to watch Dateline and 20-20 every Friday because you can learn a lot from these shows. Not too long ago Dateline aired an episode about scams online. I felt so bad for these people and it pissed me off that they can get away with it. You can watch the whole episode below.
This also reminded me of another episode they aired about debt collectors and the things they say to get you to pay. I have fallen behind on my bills like a lot of other people and have been receiving phone calls. When I saw this episode I thought boy I'm glad I haven't received a phone call like that. Well, over the weekend I received one. The woman had an accent, she said Mrs. so and so is very important for you to make this call. This is a serious matter, our number is. Again it is very important for you to make this call or we will take action against you. Make this call right now! Now had I not seen the Dateline episode I would have been scared shitless by this phone call! Thank you Chris Hansen! You can also watch the whole episode below..


Visit msnbc.com for Breaking News, World News, and News about the Economy
Pin It Now!